SaaS SEO Agency
Let your potential customers land on your high-ranked website with SaaS SEO Agency, UPSQODE.
UPSQODE is a leading SaaS SEO agency that excels MRR & SQL's to expand your B2B channel by bringing more users to your website. We have proven experience to scale your business growth with our SaaS SEO.
Have a SaaS business and want to reach millions of potential customers through Google? UPSQODE can make it true with its kick-ass SaaS SEO services that focus on results and bring maximum MRR. Want us to provide you with an SEO Audit? Click below and get access to a growing SaaS SEO Agency.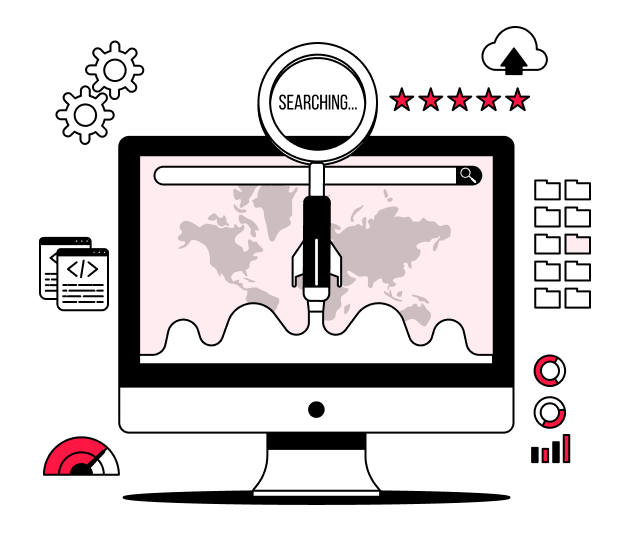 Who we are?
UPSQODE is not like another SaaS SEO Agency. We have a deep understanding of boosting B2B conversion rates through google ranking. At UPSQODE, we have a team of SEO techies who are always in search of ways to generate massive traffic as a result, till date we generated 45M+ unique visitors to our client's websites. Having a SaaS product idea and looking for an experienced SaaS SEO Agency then UPSQODE can be your ideal choice to boost your growth with our SaaS SEO expertise.
Our Proven SEO Framework to generate high converting sales leads
Our proven methodology drives high-value traffic to your websites to generate qualified leads for your SaaS product. Have a look at the well-versed SaaS SEO Agency's path toward success that covers essential steps for high ranking.
Kick Off & On-boarding
The initial step is always hard and important as well, therefore we give our highest priority to this step, in which we generalize your business and data which gives us an idea about your business and product. Our SaaS SEO agency has proven experience in analyzing products to get the best out of them.
Analyzing customer psychology
SaaS products can work on B2B or B2C models, based on the product our Customer Analysis manages at SaaS SEO Agency research about what your customer needs and why they choose your product instead of a thousand other product in the market. This part of our SEO journey is most interesting in which our expert analyzes the need of your product to build an effective SEO strategy.
Keyword Research & Competitor Analysis
This can be the most crucial part for any website to rank in Google SERP. Based on the product and their customer's psychology to search about the product on google we do keyword research for SaaS product that has high volume. Moreover, we analyze the competitors if they have, and what they do to generate ROI from their recurring customers, which gives us ideas to improve our SEO.
Recommendation & Implementations
Based on the user psychology and competitor's SEO work we will work on the technical SEO of your website. In addition, we perform everything that competitors do, and our personal touch to your website's SEO work, to boost ranking in SERP, eventually, you can get more qualified leads that you can convert.
Content Optimization
We write high-quality content and make it user-centric to get a high engagement rate. According to our SEO experts at the SaaS SEO agency, 'Content Is King', means content should be outstanding. By keeping this in mind we optimize the content and make it google crawler friendly and user-friendly.
Backlink Creation
In order to increase the website's authority, we follow our backlink-building strategy. Our SaaS SEO Specialists do extensive research on what google is looking for to rank your website in top search results and based on that we build high-quality content backlinks that boost your ranking and serve you top positions.
Trial & Error Analysis
At the well-versed SaaS SEO Agency UPSQODE, to get the best result we perform trial and error techniques to get a high position in SERP. At this point, we analyze which technique works for us and how we can improve it to generate recurring income from your SaaS product.
Iteration of proven strategy
Based on the trial and error analysis, we find the best working strategy for your SaaS product. As soon as we find the right strategy for you we improvise it and make it more effective so that google and understands your product, content, services and gives you the top place to rule.
Why choose UPSQODE as your SaaS SEO Agency?
Experience that drives results
As an affordable SaaS SEO Agency, we have more than 6 years of experience in SaaS SEO and to date, we helped 15+ SaaS products to get the best results with more than a 45Million+ organic visitors. Give us a chance to work on your product to add many more zeros to your revenue figure.
Premium content that google loves
According to google's new update, they are highly focusing on relevant and quality content that gives a world-class user experience. We believe content is king and we will keep this in our eye while producing content for the SEO of your SaaS products.
We love first-page ranking
We believe that no one is going to check 2nd page of search results until they find the correct answer they are looking for. One of the core reasons that we are one of the fastest-growing SaaS SEO agencies is, we love first-page ranking. With perfect On-page, Off-Page and technical SEO we will bring your SaaS product to the first page of search results.
Depending on Organic traffic
Instead of spending thousands of dollars on Google Ads, we rely on organic visitors from google. With our 6 years of experience in SaaS SEO, we believe that Ads can give you instant results it is for a short span, but SaaS SEO can give you long-term results and higher chances of generating leads from your visitors as compared to google Ads.
What our SaaS SEO covers to bring your product to the #1 page of Google
To bring your SaaS product to the first page of google, as a SaaS SEO Agency we will build a complete strategy according to your product, customer needs, and psychology that will bring maximum sales for your product. In order to make this happen, we will work on following SEO Services.
On-Page SEO
Off-page SEO
Technical SEO
Content Modelling
Frequently Asked Question
If you want a consistent income from your SaaS product or want to generate more MRR(Monthly recurring revenue) then you should definitely go with a SaaS SEO agency that can help you to bring visitors from google itself with SaaS SEO tactics.
Well, it depends on whether you want early success or success that lasts long. Spending thousands on PPC can give you instant results for a short time whereas SEO takes time and can give you permanent results. Moreover, nowadays everyone knows top results are paid therefore people also prefer to click on organic results.
Once we start working on the SEO part of your SaaS product, we will produce content that refers to your product and will show up on google. Eventually, whenever people will search related to your product they will find you on top search results and will land on your website and get influenced by your content, at last, they will fill out the inquiry form and will become your Sales qualified lead.
MRR Stands for 'monthly recurring income. If you are having a SaaS product that you want users to use and pay you on a monthly basis then it can be your MRR. At UPSQODE we love to work on the SEO part to give a boost to your MRR, which makes us the best SaaS SEO Agency globally.
SaaS SEO is a process to generate qualified leads from google by optimizing your Software as a service product for google search results that generate qualified sales leads(SQL's). SaaS SEO is not an ordinary SEO that anyone can do, it requires years of experience in SEO and a deep understanding of google algorithms. At UPSQODE, we have a team of SaaS SEO experts that can be your SaaS SEO agency that drives results.
SEO is the foremost thing for each business that wants to drive sales from google itself. Especially for every SaaS business, as their product helps people to solve a particular problem. Most people search for their problems on google therefore google can be the ideal way to reach out to your SaaS customers. Moreover by working on SaaS SEO business owners can generate traffic to their website and can get leads to generate high ROI.
At UPSQODE, we think that every customer and their product have different needs so, based on that we build and customize solutions for them. Let's connect with a SaaS SEO agency for a free consultation about your SaaS Product SEO.