White Label SEO Agency
Double your MRR with the top-rated white-label SEO Agency UPSQODE.
Facing a lack of in-house resources and want to expand by providing quality SEO services? UPSQODE can help you with its white label SEO services.
UPSQODE is the fastest-growing SEO agency with 6+ years of industry experience and 40+ in-house techies ready to bring your client's website to the #1 page of google. We are serving 20+ agencies from Australia, USA, Canada, UK, and many more! Want your client's website to stand out on SERP? Click the below button and get access to a world-class white label SEO Agency.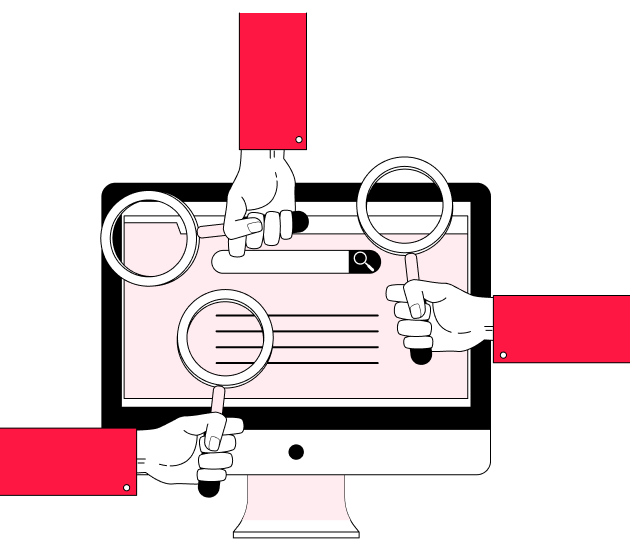 Why choose UPSQODE for white label SEO?
UPSQODE is a globally recognized white label SEO agency that helps agency owners to double their MRR with quality service & less number of in-house resources. Some reasons to choose UPSQODE as a white label SEO agency partner.
White Label SEO Reporting
When you choose to scale with a white label SEO agency, it is essential to keep a track of work and client growth using daily, weekly or monthly reporting. UPSQODE is a martyr in tracking and reporting SEO work, We know our partner's growth is our growth, and by keeping this in the eye we provide reports for every small SEO task.
Full SEO Service
We are having an in-house team of 40+ techies who are experts in all types of SEO work. At UPSQODE, we provide full SEO services from SEO auditing to reporting. As a white label SEO agency, we provide services like SEO Audit, Keyword research, SEO strategy, Content planning & optimization, On Page Optimization, Linkbuilding, and reporting.
Experience Matters
It's been 6 years in White label SEO, at UPSQODE, we have proven experience in working for agencies and driving results for them. We have a team of SEO techies who are proficient in each type of SEO work whether it is a local SEO or enterprise SEO. One can easily partner with UPSQODE and can chill as we will take care of your growth.
ROI Driven Strategy
We believe in driving the maximum number of leads to our clients so that they can get the maximum ROI. We have an expert SEO strategy building team who are masters in building ROI-driven strategy that works 200%. As a white label SEO agency, we believe in building a strategy that drives tangible results.
100% Client satisfaction
Our customer satisfaction is our topmost priority. To provide 100% satisfaction, we work hard and drive thousands of leads for our clients with our SEO work. You do not have to worry at all if you choose us as your white label SEO agency. We will work even harder to achieve your goals.
SEO Reseller Pricing
As an agency, you know the real pricing of SEO. We know you have to keep your margins, to help you grow we will serve you at a very affordable cost. To help you earn the maximum we provide monthly fixed-price SEO packages and hourly SEO packages. One can choose any of them according to their need.
Perks of working with a white label SEO agency
No in-house team required
No need for expensive tools
Faster growth
Diversify skills
No in-house team required
Nowadays many agencies are facing problems with managing employees and their tasks on daily basis but with a white-label SEO agency, you do not have to manage several people you just have to be in touch with one project manager, and you all set.
No need for expensive tools
Day by day SEO tools is becoming costly, doubling the agency expanses but by working with a white label agency you can directly ask them to give reports from that tools or can directly ask for any kind of tool help.
Faster growth
Once you partner with any other agency, you do not worry about many things like SEO tools, managing teams, or infrastructure. One can easily save all these costs and can put them into their growth which helps to scale faster.
Diversify skills
Many agencies have plans and strategies but facing issues with resources, the best solution for them is partnering with white a label SEO agency as they can get access to a number of people with different skill sets. For instance, UPSQODE is having 40+ in-house techies with different skill sets.
Our White Label SEO Services
Get access to performance-oriented SEO professionals who can perform the following services.
SEO Audits
To find the potential areas that should be improved, we provide SEO Audit reports. Our in-depth SEO Audit helps you to find all the issues with your current areas along with the solutions to improve them. As a top-rated white label SEO agency, we provide you with detailed SEO audit reports on demand.
Competitor Analysis
When it comes to building an effective SEO strategy the very first thing is identifying the right competitors to outrank. UPSQODE is a master in finding the list of competitors and their weak points to de-rank them. We provide a detailed competitor analysis report that covers a list of things like the number of backlinks, pages, potential keywords, and many more!
Keyword Research
Keyword research is one of the most important parts of an effective SEO strategy. Once, we get the details about the client's business we find the top keywords that are high volume and low keyword difficulty to rank faster. The SEO team at our white label SEO agency uses some powerful keyword research tools to find keywords.
White-label SEO Strategy
To generate maximum output from the SEO work, the SEO strategy should be kick-ass and we know that. To build an SEO strategy that stands out, we mainly focus on user psychology and mind-blowing content copy. By combining these two thing and our SEO work we can beat any giant who dominated the top rankings.
Content Strategy
We believe content is king, and content strategy plays a vital role in SEO strategy, Once we are done with the keyword research and SEO strategy we focus on high-quality content that converts users into qualified leads. We have a separate team for content planning and building content strategy to rank maximum keywords in top results.
On-site Optimization
Many agencies neglect this thing and in the end blame their SEO experts for low ranking but at UPSQODE, we know the importance of On-site optimization. To give hits to google we take care of all the on-page attributes and components like tags, internal linkings keyword density, and many more!
Off-site Optimization
As a white-label SEO agency, we help owners to create high-quality backlinks on relevant websites that have high DA PA. Our SEO experts target leaders and build quality backlinks on their websites with premium content. We do article submissions, guest posting, and many more to boost your SERP ranking.
Reporting
In order to show the results and growth to your clients, we provide on-time reports. Moreover to keep a track of our work we provide, weekly, quarterly and monthly SEO reports like analytics reports, backlink profile reports, ranking reports, leads reports, and many more!
What To Check Before Partnering With White Label SEO Agency?
Knowledge of SEO
Many agencies are there in the market, always say they are the best in SEO, but you should check the knowledge of SEO of that agency before partnering with them. You should conduct a 1:1 SEO session with their best SEO expert and if they are capable to answer all those questions without hesitations then you should work with that white label SEO agency.
Live Analytics
You can not trust any agency before checking their live analytic dashboards that how much traffic they are capable to drive in some specific period. You should ask the agency to show their live analytic dashboard with some questions about the hope they achieved that. Want to check our dashboard where thousands of people live at a time? Let's connect!
Positive Reviews
Reviews never lie, before partnering with any agency you should check and cross-verify their reviews for instance if they are claiming they did the SEO for X company then you should check their website and results with testimonials.
Service Cost
As you are outsourcing your work you should look into their pricing and packages as they play a vital role in the partnership. But while working with UPSQODE, you do not have to worry about pricing as we are an affordable white label SEO agency with years of experience.
SEO Results
When it comes to SEO, the thing that matters a lot is results and success snapshots. To check their SEO results always ask them to show the top 5 websites that drive maximum results for them.
Tools They Use
In Search Engine Optimization, tools matter a lot. You can get an idea of their work based on the tools they use. Moreover, you must check that only do white hat SEO, because many tools do black hat SEO that google doesn't like.
UPSQODE Expertise in Various Domain
We have served 100+ clients in almost all industry vertices across the globe. Have a glimpse of industries our developers worked earlier
Saas
E-Commerce
E-Learning
Healthcare
Finance
Logistic
Real Estate
Travel & Tourism
Gaming & Sports
Food Delivery
Retail
Technology
Frequently Asked Question
In simple words, selling others' services by labeling your name. For Instance, any agency is getting an SEO client and if they don't have enough resources, they outsource their work to another SEO agency and tell the client, that they are doing all the SEO work in-house.
Let me explain to you with a real-life example, there is one company named A, that manufactures coffee cups without labels. There is another company B, that directly purchases the coffee cups puts its company label on the cup and sells them in bulk to Starbucks. Here, company A is providing white label services.
Many companies do SEO reselling in order to maintain their image in the market and to achieve high revenue goals with fewer in-house resources. This type of agency grows faster as white labeling cut down extra cost and provide highly valued work.
Any SEO agency that helps other agencies to expand faster by taking their outsourced without disclosing to anyone in the market is a white label SEO agency.
No, Outsourcing is a combination of outside and sourcing which means you hire another agency who have enough resources to perform that task. Whereas in white labeling you are partnering with another agency that helps you to grow faster without hiring in-house resources.
Yes, at UPSQODE, we are having 40+ in-house experts, and everyone is having different skills. We offer every type of SEO service in our White label SEO program to help you grow faster. We are already in collaboration with 25+ agencies which makes us a highly qualified white label SEO agency to partner with.
Not at all, when it comes to a white label SEO agency, the agency act as your partner firm and sells the service under your branding. On the other hand in SEO reselling, you are selling SEO services to your clients but you are not hiring resources in-house and taking the help of other agencies to provide that services.
There are numerous benefits of outsourcing SEO services like you can get access to a pool of SEO talent, Cutting down costs, fast results, and many more!